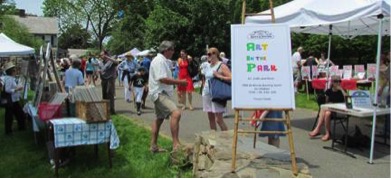 May 28, 2017
Calling Artists and Crafters!  
RAC's outdoor arts and crafts sale in Pinkney Park always is one of the highlights of Rowaytons' annual Memorial Day celebration and provides an opportunity for RAC artists and craftspeople to attract buyers as parade-goers visit the displays following the parade. You can participate with a display or paint in the Plein Air contest for prize $$$!

Display Space: $30 (No commission taken by RAC). Paint Out: $15…bring your own supports & supplies. Set-up: 9:00-11:00 am   Take-down: 3:00 pm

Please fill out the application and return with your check to RAC or go to www.rowaytonarts.org. If you would like to reserve a display rack, please call the office: 203-866-2744. (Limited supply)
Anyone who fails to comply with the rules will not be permitted to participate in Art in Pinkney Park in the future. Art in Pinkney Park Rules- click form and regulations below. 
RAC cannot assume responsibility for losses or damage to works by participants. Accordingly, the participant hereby releases the Rowayton Arts Center, Inc., its directors, officers, agents and staff from all liability for loss of or damage to his/her works during Art in Pinkney Park.
Reservations Deadline: Wednesday, May 18.
Other notes:
·       The entertainment and activities run from 1 to 3pm.  You may set up after 9 am and open for business any time after that.
·       We do have some racks available on a first-come, first-served basis, for hanging artwork. Artists will be responsible for setting them up, putting them away and bringing their own "S" hook hanging supplies.
·       Crafters, please bring your own tables and chairs.
Email the office:  info@rowaytonarts.org immediately to register and secure your spot and rack if needed. (Click on image)
Submit the Art in the Park application form below 
Fees* Booth/Display: $30  Paint Out Entry Fee: $15
Print out form and regulations