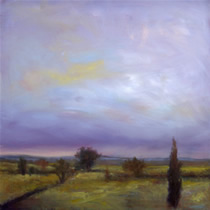 Saturday & Sunday
Nov 4 - Nov 5
10:00 am - 4:00 pm
Fee: $250
SORRY TO SAY, WE'VE HAD TO CANCEL THIS WORKSHOP.  WE'RE HOPING TO RESCHEDULE TO THE SPRING.
Saturday and Sunday, Nov 4 & 5, 2017
Sat (10-4), Sun (11-3)
Back by popular demand, this workshop will inspire your imagination and loosen up your flow, as William McCarthy engages you by sharing the techniques that enable him to paint from his imagination and achieve an atmospheric style that captures, in essence, the beauty and the emotion of the landscape. The first day begins with a lecture and demonstration and launches into a full day of painting and interaction. The second day will consist of starting new works as well as finishing up the previous day's work, adjusting tone and adding detail bringing out the best in each image.
Materials List
William McCarthy will supply most of the materials needed to complete one canvas. Participants should bring a smock, a palette, mixing containers, rags/paper towels and any paint or brushes you prefer to work with.
He prefers that participants work from sketches of a scene or landscape, however, photos can be used in a pinch
William McCarthy is a nationally-known artist whose works are in numerous public and private collections. He shows regularly in the Northeast and has been featured in American Artist Magazine. In addition to his workshops at
RAC, he teaches workshops in Farnese, Italy and, recently, in Fort Lauderdale, FL.