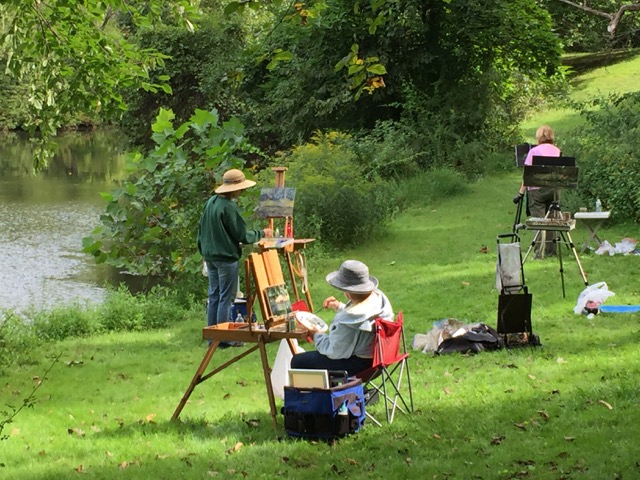 Level: ALL
Saturday
Jun 3
7:30 am - 12:30 pm
Fee: $65.00
SORRY TO SAY, BUT WE'VE CANCELLED THIS EVENT DUE TO LOW ENROLLMENT.  Email the Education Director at education@rowaytonarts.org if you're interested in attending a Plein Air event with Anda Styler in the future.  
Join Instructor, Anda Styer, and catch the best light of the day…early morning light at beautiful Pinkney Park in Rowayton. The workshop will focus on light, shadow, composition, and how to capture the landscape without being totally overwhelmed!
Being on location can be somewhat intimidating – everything is there in front of you so how do you hone in and create a powerful painting that captures the essence of the place? I'll teach you how to be selective and how to best focus on one area to capture the the feeling, the movement, the mood and the light. We'll paint the light and shadow values first using a limited pallet — you have only minuets to catch the light. The rest of the time you work with your composition. There will be a quick 20 minute demo at the start of the workshop.
Participants will meet at Pinkney Park in Rowayton and should park their cars in the large parking lot located across from the Rowayton Market.  In case of rain, we will meet at RAC and will carpool to a gorgeous boat house on the marsh.  We will confirm the destination the evening before the workshop.
IMPORTANT NOTE:  Participants are invited to exhibit their finished paintings at the Rowayton Arts Center's "Paint Rowayton" show that will be taking place the same day.   Any student wishing to participate in the show should work in acrylics and bring a frame and wire so your piece is ready to hang.
Supply List:
Plein Air Easel – (I suggest the "en plein air pro" easel – enpleinairpro.com)
Paints – limited pallet works best:

Oils –  Ultramarine Blue, red oxide, burnt sienna, yellow oxide or ocher, thalo blue, white, Windsor Newton Olive Green, burnt umber
Acrylics – Ultramarine Blue, Quinacridone, Burnt Orange, Yellow Oxide, Thalo Blue (red shade), White, Hookers Green, Sap Green, Transparent Brown Oxide

Umbrella that attaches to easel – or in the ground
Spray bottle for acrylic users
Sta-Wet Premier Pallette from Mastersons – a must for acrylic painters
Paper towels
Small plastic garbage bag for paint rags etc.
Mirror for reverse image
Make sure you have a hat – plenty of water to drink/snacks.
If you can not stand then bring a chair – BUT it is HIGHLY recommended you stand and paint