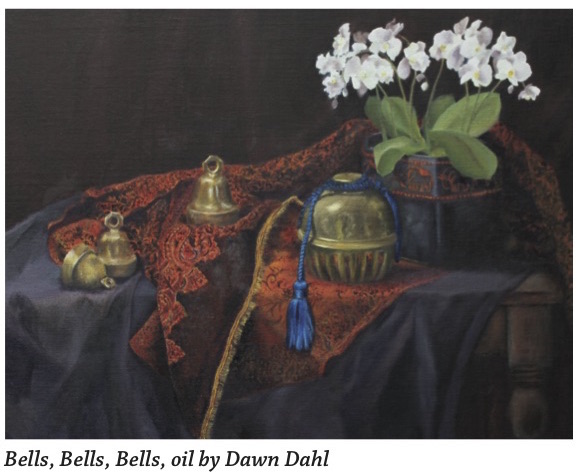 RAC artists featured at Lockwoods-Mathews Exhibit
Until January 8
(Bells, Bells, Bells by Dawn Dahl)
"Gilded Age Redux" artists please submit your artwork and bio by September 24 via email to:
sgilgore@lockwoodmathewsmansion.com;
Please make sure that the digital artwork is in a jpg format and high resolution (300 dpi).
Exhibit Dates:
October 8-January 8, 2017
The Gilded Age: Twenty-first century Twist of the Nineteenth Century by Gail Ingis
You are invited to submit work for the fall 2017 juried art show at Lockwood-Mathews Mansion Museum in Norwalk, CT. We are focused on today's interpretation of the Nineteenth Century Gilded Age. Can you create art that can be gilded, enriched and can that art be a statement about where society and technology is today? For a look at gilded art, in 1907-08 Gustav Klimt gilded his work. It became his trademark.
Below is a brief history of the meaning of 'Gilded Age.'
The Gilded Age, circa 1870-1920 . . . Gilt was used lavishly in Lockwood-Mathews Mansion, built in 1867, shortly after the Civil war. From the ashes of the American Civil War sprung an economic powerhouse. It was a time of excess, inventions, railroads and the World's Columbian Exposition in 1893 that changed worldviews in all aspects of life and society. Here's a link for your perusal: http://xroads.virginia.edu/%7EMA96/WCE/tour.html
The growth was astounding. From the end of Reconstruction in 1877 to the disastrous Panic of 1893, the American economy nearly doubled in size. New technologies and new ways of organizing business led a few individuals to the top. The competition was ruthless. Those who could not provide the best product at the cheapest price were simply driven into bankruptcy or were bought up by hungry, successful industrialists.
Factories built by the Union to defeat the Confederacy were not shut down at the war's end. Now that the fighting was done, these factories were converted to peacetime purposes. Although industry had existed prior to the war, agriculture had represented the most significant portion of the American economy.
After the war, beginning with the railroads, small businesses grew larger and larger. By the century's end, the nation's economy was dominated by a few, very powerful individuals. In 1850, most Americans worked for themselves. By 1900, most Americans worked for an employer.
Nevertheless, the American economy grew and grew. By 1914, the small nation once seen as a playground for European empires had now surpassed them all. The United States had become the largest industrial nation in the world. True leadership, for better or for worse, resided among the magnates who dominated the Gilded Age.