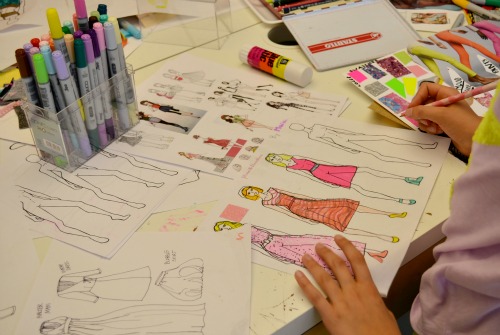 Level: Ages 6-10
January 20 - March 10 (no class 2/17), 2018
Saturdays
10:30am - 12:00pm
8 weeks
Instructor: Jessica LaRock
Fee: $235
Class Description:
In this class , students will learn to understand the important artistic aspects of fashion and become well rounded designers. The classes will cover flat sketches, drawing still life with fabric draping and accessories, designing dresses using fabric on paper and basic hand sewing and beading. This class is open to beginners to the advanced, as long as there is a "passion for fashion!"
About the Instructor:
Jessica LaRock is an illustrator from Darien, CT. She has studied in London, Boston, NYC and Rome and has developed her own characters and style that can be recognized by fans along the streets and parks of NYC. Jessica teaches illustration and art to kids ages 5-12 throughout the year.  Her fun, winsome personality engages kids by helping them to build confidence and to see the fun in experimenting with art and creative ideas.