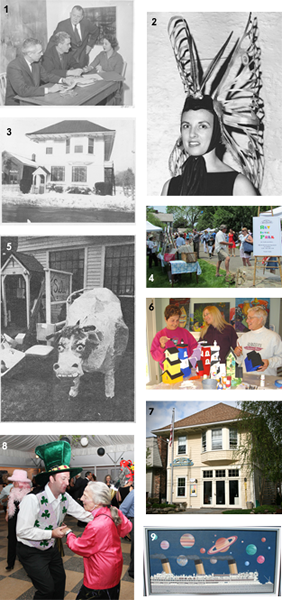 145 Rowayton Avenue, now the home of the Rowayton Arts Center, was built in 1905 for the Reliance Hook and Ladder Company. The original building had porches overlooking the river on both the first and second stories and a door wide enough to accommodate fire equipment. The Rowayton Library moved into the building in 1926. 145 Rowayton Avenue was added to the roster of plaqued historic buildings by the Rowayton Historical Society in 2008.
The precursor of the Rowayton Arts Center was a life drawing class organized in the late 1950s by local businessman Don Craig on the second floor of the library at 145 Rowayton Avenue. The classes offered artists an opportunity to work and share their thoughts. Rowayton was home to a number of exhibiting artists who showed at the Village Fair and in nearby towns, but who had no central base. The idea for an arts center that would provide a setting for artists in all fields to gather, exhibit, lecture and inspire interested people from Rowayton and the surrounding area was suggested to the 36 professional artists showing their work at the 1959 Village Fair.
January 1960:

 a group of artists and authors gather at the home of industrial designer Arno Scheiding to discuss the concept. A month later, RAC's certificate of incorporation is signed by Don Craig, William Grey Schaefer and Scheiding. Ruth Young, office manager at Ely's Boatyard, notarized the document. The new Arts Center moves into 101 Rowayton Avenue (now occupied by Brendan's 101).
The sale of art, membership fees and contributions from supporters help pay the rent, but RAC needs a fund-raiser – and the 

Bal de Tête

 is born. This irreverent party featuring crazy headgear created by attendees continued as a popular annual fundraiser until the 1970s. Although RAC's primary focus was its art shows and classes, activities also included poetry, drama, architecture, music and dance.

1966:

 RAC, which has become a successful community arts center, needs more space and moves to its current location at 145 Rowayton Avenue.

May 1969:

 RAC organizes Art in the Park, an exhibit and sale of artworks in Pinkney Park, coordinating with Rowayton's Memorial Day Parade. Art in the Park continues as an important element of the community's Memorial Day celebration.

1979:

 Support from area businesses makes possible the Community-Sponsored Awards Exhibit, a juried show of artwork in all media that now is an annual event.

1970s-80s:

 RAC members originate a variety of events to raise funds while having fun. These include a Masterpiece Ball (guests were asked to dress as a genius from any era), a Bal de Fleur (flower headgear or costume optional), an Octoberfest, Arts & Ends tag sales and a dance party at the Lockwood-Mathews Mansion Museum.

1994:

 A Holiday Gift Show is so successful that it evolved into an annual year-end event featuring unique jewelry, pottery, paintings, accessories, decorations, photography, hostess gifts and other items created by award-winning artists and crafters.

2000:

 After several smaller remodeling projects, RAC undertakes a major upgrade of its facilities. The front door is re-positioned, the gallery is opened for clear river-views, and movable panels are installed for extra hanging space. New lighting, a handicapped-accessible bathroom, and an improved galley are added. New landscaping includes a walkway of memorial bricks, begun as a fund-raiser and now serving as an enduring memorial. RAC's old card-file system gives way to the computer age.

2001:

 RAC launches its first web site.

2008:

 The RAC building at 145 Rowayton Avenue is added to the Rowayton Historical Society roster of plaqued historic buildings.

October 2010:

 RAC celebrates its 50th anniversary with a memorable Bal de Tête, reminiscent of earlier gala events, and a special 50th Anniversary Exhibition honoring founders and other artists who participated in the first decade of the Arts Center's existence including artist Jim Flora. Click here to see Bal de Tête creative headware

February 2012:

 RAC introduces a new web site and a new logo.