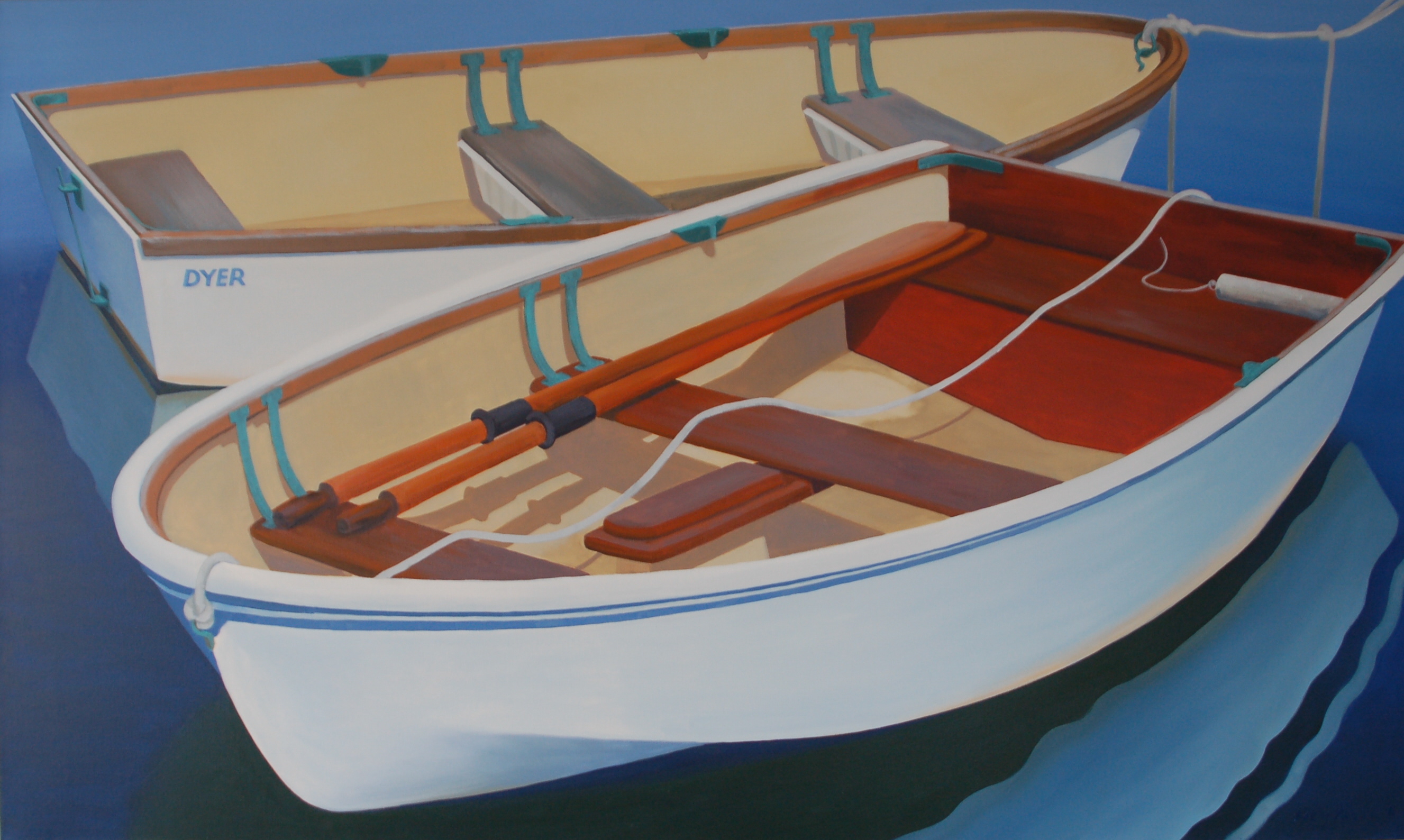 A self taught painter, Pamela attended Tyler School of Fine Arts in Philadelphia as a metal-smith major and transferred to the University of New Hampshire to complete her studies in metalsmithing. In her teens, she studied under Harold Seroy, a portrait painter and early in her career she was a clourist for Marlene Siff, a wallpaper and linens designer in Westport, CT. She then painted designs for a Wedgewood pattern designer, Veda Brock Turner, also in CT.
As a commissioned artist for the past 25 years she has created unique, large window paintings and murals for homes and offices, as well as house and pet portraits that include winning race horses for clients along the East Coast, Bermuda and England.  She is always thinking about and finding new ways to approach the canvas with paint and perspectives creating new and different pieces which inevitably lead to more new ideas.
Her primary painting mediums are acrylic and oil and she has won numerous awards for her paintings.  She designed and painted the cow "Surf and Turf" for the Stamford Cow parade in 2000; an elephant called "Elephantasy" which graced the UBS Warburg's lawn in 2003, "In the Dog House" in Stamford's Reigning Cats and Dogs in 2010 and "Sea Horse" in "Horsing Around" in 2012.
Since 2005 she has been working under the tutalage of two sculptors in New York; Ron Mineo and Mike Keropian.  Clay has been her sculpture medium so far and she has created pieces concerning the human figure in their life sculpture class and life size head portraits.  She also likes to fit clay pieces together, creating a larger sculpture and using creative thinking to get it to all work.  A particularly involved piece that required a bit of engineering to put together was a 5 foot lighthouse for which she created eight pieces in clay that needed to fit together once fired and incorporated a piece from a wooden column that the eight pieces all worked around.  It is currently for sale at the Geary Gallery in Darien.  From there she created a 3.5 foot high piece with two swirling otters in kelp and that has inspired her to step into yet another direction with three abstract pieces concerning the sea.  Its organic matter and creatures have influenced her greatly both in paintings and now in her scuplture.  The undulations caused by the sea upon the kelp have her creating ribboning pieces in clay to mimic the motion. She has pushed the clay to its limits in asking it to hold these shapes.  She is challenging both herself and the clay.
She has currently completed her first stone carvings and has an excitement in the art of stone not yet found in clay.  Stone has hidden veins and colours that come out as you shape the stone and often it makes you rethink the direction you originally were heading.  It is a long and exhilarating process of bringing out the best in the stone.
Pamela is a Stamford native whose work can be seen at the Stamford Art Association, Rowayton Art Center, the Geary Gallery in Darien and in her studio.