For Immediate Release                                                                                                                                                                                                                                             11/10/2016
The countdown to the holidays begins: 43 days until Christmas Day and 43 days until the first day of Hanukkah! Want to avoid the mad rush of holiday shopping? Get a jump start at the beautiful Holiday Gift Show at the Rowayton Arts Center.
This Holiday Gift Show is a Rowayton tradition. Under the creative eye of Pam Abear, the Art Gallery transforms into a magical winter wonderland. It's filled with the work of the region's best artisans. You can find one of a kind, creative presents for everyone on your list. Opening day is Saturday, November 19. Special Opening Weekend Hours: Saturday- Monday, November 19-21: 10:00am -5:00pm.  Show Dates: November 19-December 24.
While you're there, have a look at Frank Bruckmann's painting, "Classic Still Life." Mr. Bruckmann, painter and art instructor, has generously donated his painting (Value: $1950) to the RAC raffle. His work can be found in galleries from Maine to Connecticut. Proceeds from the raffle and Holiday Gift Show are used to support the Art Center and its educational projects.
For almost 60 years, the Rowayton Arts Center has been a cultural gem. It is an exceptional gallery where regional artists can exhibit and sell their art, as well as being a wonderful venue for art workshops and classes. The Art School offers classes to children and adults at all levels. The RAC Gallery and Art School are located on the bank of the scenic Five Mile River in Rowayton, CT at 145 Rowayton Avenue.
For more information: www.rowaytonartscenter.org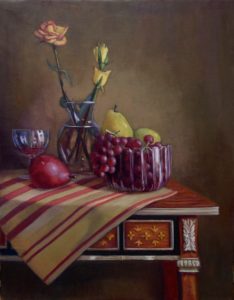 Painting by Frank Bruckmann