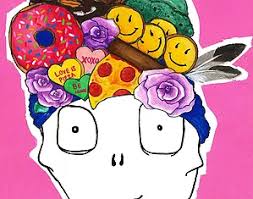 Level: 8-12
January 20 - March 10 (no class 2/17), 2017
Saturday
1:00 - 2:30pm
8 wks
Instructor: Jessica LaRock
Fee: $235
Character Development class takes the doodle to new places. The one or two characters your child is drawing will be developed to a professional level and drawn in different mediums. The class will cover pastels, markers, charcoal, colored pencil and water color. Then let's discover where your character can go, clothing? School supplies? A logo? The class will create like the pros do in character design.  Let's see who can create the next Hello Kitty or Mickey Mouse!
All supplies included
Jessica LaRock is an illustrator from Darien, CT. She has studied in London, Boston, NYC and Rome and has developed her own characters and style that can be recognized by fans along the streets and parks of NYC. Jessica teaches illustration and art to kids ages 5-12 throughout the year.  Her fun, winsome personality engages kids by helping them to build confidence and to see the fun in experimenting with art and creative ideas.