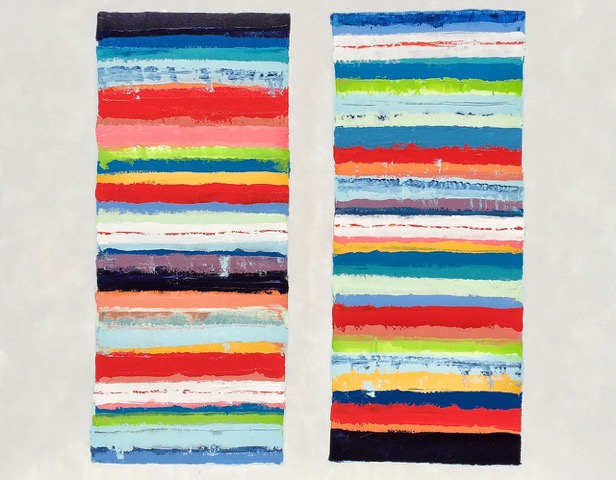 I have an affinity to make my surroundings pleasing to the eye. My paintings grow out of a personal experience,  evoking interest and passion that takes me on a journey using paint on canvas. I want to create something for my viewer to be drawn into, visually tactile and painterly pieces that illicit feelings and emotional triggers and connections that a participant will experience using his/her own imagination.  My goal is to not only make your eyes see, but to taste and smell the colors and textures. I feel a piece of art should arouse a feeling of intrigue and calm; it should be a complete and absolute moment.
Kim Romero is an impressionistic abstract painter, whose natural attraction to the relationship between colors and textures is not surprising given her thirty years experience in interior décor, food presentation, and garden design. Her paintings grow out of a visual personal experience; tactile and painterly pieces that illicit feelings and emotional triggers and connections that arouse a feeling of intrigue and calm. Over the last eight years, the mostly self-taught artist has studied at The Silvermine Art Center in New Canaan, CT.  Since 2010, she has been seen and represented by several galleries and fine design shops dedicated to emerging artists.  She has exhibited as part of Westport and Greenwich, Connecticut's town wide art shows over several years and has been part of a group exhibition at The Union League Club in NYC and a semi-solo show at Southport Galleries, in Connecticut.
Kim is currently represented by Southport Galleries, Southport CT, Bungalow, a chic lifestyle boutique in Westport, CT and most recently can be seen in Nest Inspired Home, Rye, NY., represented by Romanoff Elements of Westchester, NY, an art consultant and artist representative.
Fairfield Living, featuring Southport Galleries in the March/April 2014 edition, quotes the owner of the gallery, Sissy Biggers. "Kim Romero's work has already filled many walls for young collectors designing new homes."
Kim is featured in Southport Galleries most recent exhibition, "Six Years, Six Artists." The exhibition had it's opening  on December 4, 2015 and ran through January/February, 2016.  Kim has been commissioned by private clients in Westport, Vermont, Louisville, KY, Victoria, BC and New York City.
For more information about Kim and her work, consult her website.