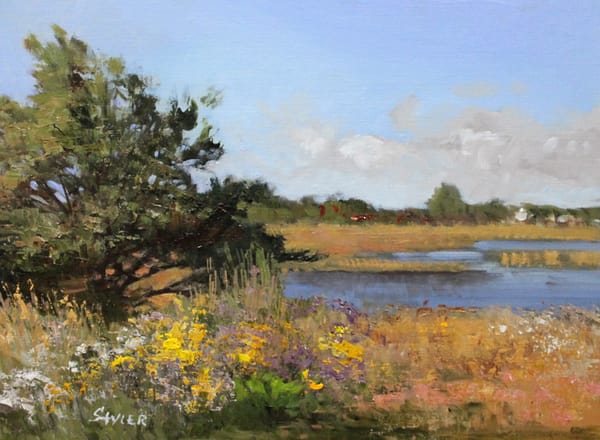 Saturday
Jun 1
2:00 pm - 6:00 pm
Fee: $80
We'll catch the best light of the day in this late afternoon workshop overlooking the gorgeous Five Mile River. The workshop will focus on light, shadow, composition, and how to capture the landscape without being totally overwhelmed! Being on location can be somewhat intimidating – everything is there in front of you so how do you hone in and create a powerful painting that captures the essence of the place you are? You must be selective and focus on one area – you capture the essence the feeling, movement , mood and light. There is so much to look at – but then you become the camera – you hone in and find your point of interest and simplify it – painting the light and shadow values using a limited pallet. You have only minutes to catch the light – the rest of the time you work with your composition. There will be a quick 20 minute demo.
Painting location will be announced soon, and will be in the RAC vicinity.
Supplies Needed:
STAY WET PALLET – a MUST for acrylic users
Plein Air Easel
paints – limited pallet –
Oil –  Ultramarine Blue/red oxide/burnt sienna/ yellow oxide or ocher/thalo blue /white/Yellow Oxide/ Raw sienna/ Cad yellow med / Raw Umber, Windsor Newton – Olive Green /burnt umber
Acrylic – Ultramarine Blue/ Quinacridone Burnt Orange/ Yellow Oxide/ Thalo Blue (green shade) /White/ Hookers Green/Sap Green/ Transparent Brown Oxide/Yellow Oxide/ Raw sienna/ Cad yellow med / Raw Umber
Umbrella attaches to easel – or in the ground
Spray bottle for acrylic users
Paper towel
Small plastic garbage bag for paint rags etc.
Mirror for reverse image
Make sure you have a hat – plenty of water to drink
If you can not stand then bring a chair – BUT it is HIGHLY recommended you stand and paint